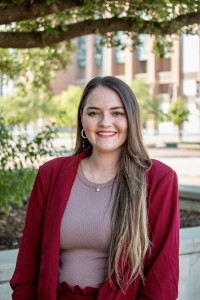 Primary Advisor: Shelby Hearn '21
Howdy! My name is Shelby Hearn (she/her) and I am the advisor for The BIG Event. I am so excited to get to work with such passionate, selfless student leaders who dedicate themselves to serving the entire BCS community! From 2015-2018, I served as the student director for The BIG Event at Stephen F. Austin State University (SFASU) for three years where we attended the One Big Thanks Conference every year here in Aggieland. After receiving my Bachelor of Arts in Communication Studies at SFASU, I moved to Aggieland where I graduated from Texas A&M University with a Master of Educational Administration in Student Affairs Administration in Higher Education. In 2021, I continued pursuing my education part-time in the PhD Higher Education Administration program at Texas A&M University. I am also heavily involved in the Texas Association of College and University Student Personnel Administrators (TACUSPA) and serve in a variety of roles. My passion for learning, leadership development, and enhancing the student experience are three major keys of my work. In my free time I enjoy playing with my dogs, traveling, painting, and biking. I look forward to using my experience to continue developing this organization and hope to connect with Big Event Advisors all over the world to expand our network together!
Howdy! I assist the Big Event team in planning out specific events and activities. I got my Undergraduate in Psychology from BYU- Idaho. While getting my undergraduate at BYU-Idaho, I learned how essential service is for bringing people together of all backgrounds. Here at Texas A&M, we have a large and diverse student body that is so talented. Big Event is an amazing opportunity to use those talents to give back to the community. Together through Big Event, we can make a difference here in College Station.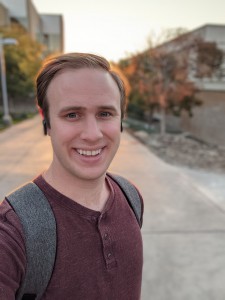 Graduate Assistant: Colin Johns